---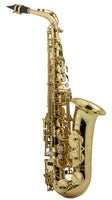 Sale
The Sax Stable is proud to announce that we have entered into a partnership with the Conn Selmer company as an authorized dealer!

Were enthused to now be selling & ordering the full range catalog offering of brand new brass & winds, percussion and accessories from brands such as; Selmer Paris, Bach Brass, Armstrong, C.G. Conn, Holton, King, Leblanc, Ludwig, Ludwig-Musser, Scherl & Roth, Selmer USA, Yanagisawa, Rico, Vandoren, as well a whole slew of other great brands!

Its our pleasure and goal to offer you concierge level one on one customer service to give you the absolute best possible horn buying experience!

When you are ready to purchase your next horn or accessory please think of the Sax Stable and do no hesitate to reach out!

All brand new instruments come with the industry standard full manufacturer warranty backed by Conn Selmer.

Please message over with any question, comments or concerns about our listings, horns, gear, policies or stories about your horn buying journey, we would love to hear from you!

If you have already made the decision on your horns exact brand and model be sure to shop us and message in to give us the chance to win your business!

If you do not see your exact model, finish or variant listed absolutely still reach out to us!

With our partnership if we dont have the horn on site we have access to ship your brand new fully setup, ready to go, brand new in box horn directly from Conn Selmer King Bach's private warehouse, direct to your doorstep!

As always please check out our extensive selection of used and vintage music gear!
_________________________________________________________________________________________
Selmer ASOL300A Soloist Alto Saxophone
"Performance" Series Soloist Alto is Designed for Amateurs and Advanced Musicians of All Ages. The Instrument is Designed and Constructed to Deliver a More Focused, Warm Professional Sound with Excellent Intonation and Great Projection. Built by Highley Skilled Craftsmen for Durability, Dependability and Outstanding Appearance, This Instrument Will Help Your Advanced Musician Reach New Heights in Performance and Personal Self-Esteem. Your Student Will Be the Envy of the Sax Section.
Key of Eb
Yellow Brass Material with Ribbed Constructed Body, Removable Bell Brace Ring and the New Ultra Bell Design
Power Forged Gold Lacquered Key Mechanism Ergonomically Designed for Advanced Players with High F# Key
Adjusting Screw on Articulated C# Key
Stainless Steel Professional Style Tapered Screws Lend a Light, Positivve Action
Kid Leather Pads with Metal Tone Boosters Across the Scale of the Instrument
Adjustable Metal Right Hand Thumb Rest
Non-Corrosice Stainless Steel Rods and Springs
Gold Lacquer Finish
Soloist Engraved Bell, Bell Rim, Body and Nec
Neck Strap, Swab, Jewel Cap and Ligature Included
Hardshell Wood Shell Gig Case with Solosit Logo
From the moment you place your order the process starts ASASP and the gears begin turning so please buy and pay confidently!
Most orders are ready to dispatch and typically ship within 24 to 48 hours, and many times we can get them out DAY OF purchase. If you would like to feel confident when purchasing feel free to message over and we can tell you the exact time table for your horn as well share with you if the horn is shipping from Sax Stable headquarters, or direct from Conn Selmer's horn vault.

_________________________________________________________________________________________
The Sax Stable is unable to accept returns or exchanges of any merchandise, instruments or accessories regardless if they are sealed in the original manufacturer's packaging material. Sax Stable honors and is capable of processing manufacturer's warranty claims on items purchased through the Sax Stable. In the event of a shipping anomaly occurring it is necessary for the customer to retain all original manufacturer's boxes, packaging and any materials provided by the Sax Stable. Please refer to Terms and Conditions of sale for more information. All sales are final and binding with no return or exchange as written.